Janet Pidoux  S.W.A.  S.O.F.A.
I was born in the village of Penn in Buckinghamshire and loved doing art from an early age. Some of my earliest memories are of sitting on my grandmother's doorstep sketching animals, and there were always lots of animals around in my childhood, such as the rabbits, chickens, ducks, geese and turkeys raised by my father. But I didn't decide to pursue art as my career until I was in my 30s, when I found myself picking up a brush for the first time and painting watercolor miniatures of wildlife and flowers. After a few years of experimenting, I finally settled on pastel as my medium of choice because I love the soft effect it produces. I enjoy painting landscapes, but my favourite subject is cats, in particular cats we've had over the years, such our three lovely gingers, Ziggy, Jack and Benny. My aim is to capture their individual personalities and give them a life on paper.
In 1992 I was invited to become a member of the Society of Women Artists and in 1997 the Society of Feline Artists. I have also exhibited with the Pastel Society and the Society of Wildlife Artists, both at the Mall Galleries in London. In September 2006 I was given the Llewellyn Alexander Award for an outstanding set of feline paintings at the annual London exhibition for the Society of Feline Artists.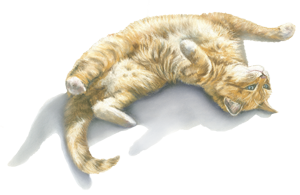 My work can be found in private collections all over the world and has been reproduced on many occasions for the print market. These days I live in the inspiring landscape of the Cotswolds with my husband and a handful of sheep who keep our grass short and a smile on our faces.